Its working now! We invite you to a new page with interesting resources.
We find there jQuery plugins, variety of useful JavaScript libraries, tutorials and more. We publish materials in our opinion worthy of attention, so both Web Developers and Web Designers can find in one place solutions for own projects. And maybe even new ideas.
Next to useful jQuery plugins, there appears other resources, about stuff like RWD and mobile web, HTML5 and more.
Порно видео. Порно видео бесплатно: http://agroprod-36.ru/. Pornuha.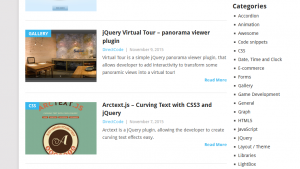 There will appear also a lot of interesting material related to online games programming.
Welcome!