I love this atmosphere of Halloween! Having a free moment, I decided to create a simple game to fully feel the atmosphere.
Halloween game in JavaScript
It's about the time not complicated requirements. For the project (and writing about on this blog) I had not too much time. Therefore, the aim was to create a game ASAP.
So in the shortest path, we'll create a simple and well-known Memory game. Matched pictures disappear revealing a stunning background 🙂
The result looks like this: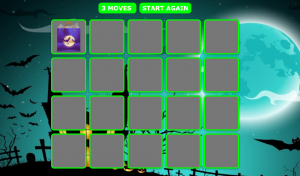 So let's code!